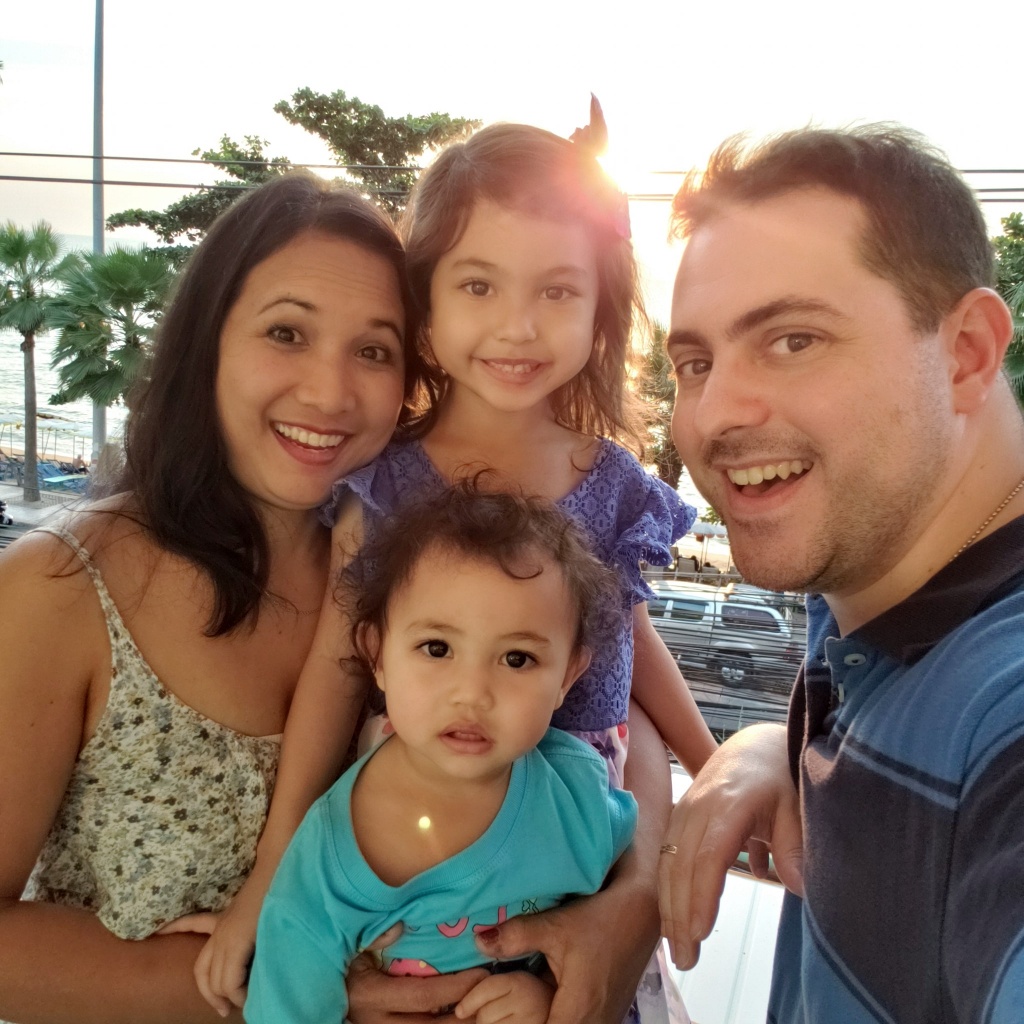 Christopher Galletta Stevens is an independent, freelance comic creator, sequential artist, graphic novelist and web designer. He lives in Oswego, NY with his lovely native Thai wife Rungnapha and family, where he supplements his art career splitting time working at his family's small business and with his wife, co-owns and co-operates a very popular sushi bar in his hometown, formerly located in the city's grocery store from 2011-2015, then moved to the local college from 2015-current.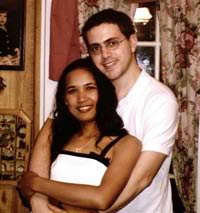 Artist/Writer Bio
Christopher, who had always envisioned that he would be an artist/creator since early childhood, began drawing pictures of early favorite Frosty the Snowman in his oughts. He then expanded his talents to creating his own comic strips in Elementary school, named 'Mr. Butts', which were at first highly inspired by comic strips of the period (Heathcliff, Peanuts, Garfield, Popeye, etc.), and later on by 1980s cartoons of 'The Transformers' and 'G.I. Joe: A Real American Hero'. With them, he also counts Star Wars movies and Indiana Jones movies which he as four of his greatest childhood artistic influences in terms of art and storytelling.
In his teens, he began reading comic books, where comic book artists such as Todd McFarlane, Jim Lee and Arthur Adams, and cartoonist Bill Watterson (creator of his favorite comic strip, 'Calvin and Hobbes'), as some of his favorite contemporary artists who also greatly influenced his style. He later continued on drawing comics into Middle and High School, where he created 'Chris The Crusher Comics' and became an artist for his school's newspaper where he won awards in 1st place for best cartoonist in New York (Empire) State High School Press Association and Syracuse Newspapers awards for best cartoonist four times in three years. Chris then went on to take trade school courses in illustration and cartooning during and after high school, but is mostly self-taught. Almost everything on this website, he taught himself how to do.
His Projects
After school, Chris began in comics by self-publishing several of his own books for his own independent label, ChrusherComix Studios. For his own label, he has created, written, illustrated, penciled, inked, colorized, edited, and published the following: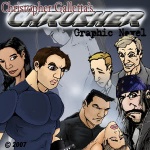 (AKA Chris The Crusher Comics, Crusher, Chrusher, and ChrusherComix), is a self-published comic that began in 1988 about a regular, every-day high school student who became a small-time justice and freedom-loving vigilante of sorts. Produced on and off between 1988 and present, 'ChrusherComix Classics' are re-issuing older issues and in 2008, 'Chrusher: End Cycle' which is a graphic novel issuing first as an ongoing comic book, later to be re-printed in hardcover and trade paperback, both published by ChrusherComix Studios and can also be read online via his websites.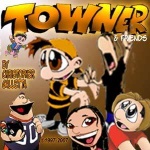 is a comic strip about an imaginative little boy named Towner, his oddball friends, cute pets and loving family. The strip is a sanitized, miniaturized, lil' kids rendition of ChrusherComix, and Chris likens it to "If the ChrusherComix universe went through a weird inter-dimensional porthole and wound up in a cartoony Calvin and Hobbes-like dimension, Towner Comics would be it, albeit a few names changes along with violence and adult humor expelled." The comic strip has an anthology compilation published by ChrusherComix Studios and can also be read online via his websites.
'Tee & Wee: Health & Nutrition for Small Earthlings'
Christopher also co-created a children's book with writer Robert Buchanan named 'Tee & Wee: Nutrition for Young Earthlings' which was originally published by LuLu press but first editions are out-of-print and is currently seeking another publisher.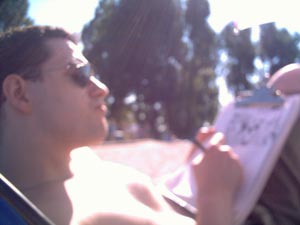 Chris' preferred drawing methods are pencil and pen on Bristol Board, scanned and digitally painted and lettered on Adobe Photoshop. It is time-consuming to do every step of the way (creation, writing, layout, pencils,inks, colors, letters, editing, publishing), but he gets it done between his other jobs. (Admittedly, if there was a larger audience and more comic sales, the speed would increase BY FAR!)
Chris has been influenced by a lot of pop culture from his childhood, but not as much with current offerings. He is a huge fan of the Star Wars, Transformers, and G.I. Joe: A Real American Hero franchises, and older Steven Spielberg movies (at least his pre-2000 ones), all of which he has been a  loyal fan since the late 1970s-1980s. He is also a film score fan, counting the legendary John Williams is his favorite composer, having over 350 CDs, LPs, DVDs and Blu-rays containing his music, but also enjoying the music of John Barry, Bill Conti, Vince DiCola, Danny Elfman, James Horner, Christophe Beck and Steve Jablonsky. He enjoys music of all genres, including Orchestral or Classical, a great deal of '80s music and easy-listening '70s music, he also enjoys hard rock and some metal. His favorite fictional storytellers are contemporary writers Eric Lustbader and Larry Hama, and filmmakers George Lucas and Steven Spielberg. He enjoys classic literature and movies based after it as well, but does not worship it as tell-all/end-all, as he fears that is what far too many writers/creators do which bottlenecks some storytelling with old tropes.
Champion Karter
Chris' other hobbies include racing go-karts. He co-founded, races in, and produces the website and race videos for the Galletta's Karting Club, and is respected/hated/feared/disliked as one of Upstate New York's All-Time leading karters in points and wins as well as a multi-time annual points and Classic/Klassic champion in the sport on the two Oswego dirt karting tracks.
Hobbies
He also is a fan of pro football and pro basketball, in particularly cheering for (sadly) the New York Jets since the late 1970s, and (happily) the San Antonio Spurs since the early 1990s. He also grew up watching Supermodifieds at the Oswego Speedway, with some of his favorite drivers over the years being Doug Heveron, Bentley Warren, and Doug Didero. He also  is a pet lover caring for countless cats, turtles and fish. He also is a crazed Masterpiece Transformer collector, which adds to his proud collection of G1 Transformers. He also collects G.I. Joe: ARAH and George Lucas' Star Wars Episodes 1-6 (not the Disney stuff… that's not Star Wars).
All of his publications and projects can be found on his website, Chrusher.com.
Notes: His graphic novels, comic books, comic strips and websites are located on the following sites:
Miscellaneous:
Marital Status: Married
Date of Birth: May 1974
Birthplace: Oswego, NY, USA
Website: http://www.chrusher.com/
E-mail: chris – at – chrusher – dot – com
Blog: http://chrushercomix.blogspot.com/ (rarely used)
Twitter: http://twitter.com/Chrusher (rarely used)
Facebook: http://www.facebook.com/ChrisChrusher
MySpace: http://www.myspace.com/chrischrushercomixandau (rarely used)
DeviantArt: http://chrusher.deviantart.com/ (rarely used)